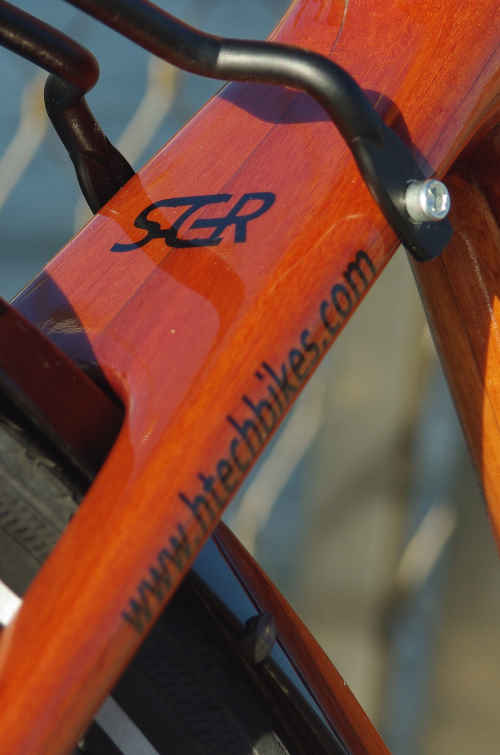 As Stiff As Carbon
The first recognised bicycle was built by Karl von Drais in 1817. Made almost entirely from wood, it weighed just 22kg. As the industrial revolution progressed wooden bikes were soon abandoned for steel.

Carbon fibre is now the material of choice for frame building. Carbon fibre's high strength-to-weight ratio means carbon fibre bikes can be made lighter and stiffer. The other advantage of carbon fibre is it can be formed into almost any shape needed, creating super aerodynamic and lightweight race bikes.

Modern wood bikes can now be made as stiff as carbon fibre bicycles with only a slight weight penalty. HTech Bikes frames currently are only 800g heavier than the average carbon fibre road frame, the weight of a 500ml full water bottle or 0.842% of a 85kg rider and his bike. Wood's durability is much greater than carbon fibre due to wood's natural structure and the increased wall thickness. As a tree grows it is subjected to forces from all directions, creating a naturally stiff and super strong material. HTech Bikes use only hardwood timber as it is the strongest and densest type. By constructing our wooden frames with relatively thick walls they are highly durable to impacts.

Wood is not just used for furniture. Some car manufacturers build vehicles with wooden frames. Cricket & baseball bats, hammers and axes are also made of wood, not carbon fibre as it too brittle and would shatter under the loads placed on bats, hammers and axes.

The biggest advantage of a wooden bike is the way wood absorbs vibrations. This is because of wood's natural cellulose structure, growing with high and low density fibres (seen as light and dark rings). These variations in density vibrate at different rates, reducing road vibration, creating a super smooth and whisper quiet ride incomparable to anything else. Australia's rough and course roads are where our road bike frames really stand out.

HTech Bikes has developed SCR to change the way wooden bikes are perceived and ridden. We take a wooden bike frame and add carbon inserts to add strength to high stress areas of the frame while reducing weight and increasing stiffness. We then bond UD carbon fabric to the inside of the tubes at selected areas to strengthen them. Every HTech bike frame now is stronger, stiffer and lighter, all without losing the ride performance of a high-end bicycle frame. Each piece of carbon fibre is careful considered as to its position, orientation and thickness so as to provide the perfect balance of characteristics to the overall bicycle. Thus creating a blend of wood and carbon to eliminate each material's weaknesses while enhancing their strengths.

Everybody appreciates a well-made piece of wooden furniture - the woodworkers craftsmanship and appearance of the wood. HTech Bikes create performance ready, endurance road bikes with this same level of skill and perfection. So you can ride the best looking bike on the road combined with unparalleled ride performance.