10 Reasons Why You Should Buy a HTech Wooden Bike
Why wood? Is it strong enough? Won't it be too heavy? These are some of the questions we get asked regularly. At HTech Bikes we believe everything can be improved. In today's high-tech bicycle manufacturing world, where marketing departments come up with 20 different names for the same technology, carbon fibre frames dominant the market. So why would you buy a HTech Bike instead? We've come up with a list of some the best reasons why your next bike frame should be a performance wooden bike, from HTech Bikes.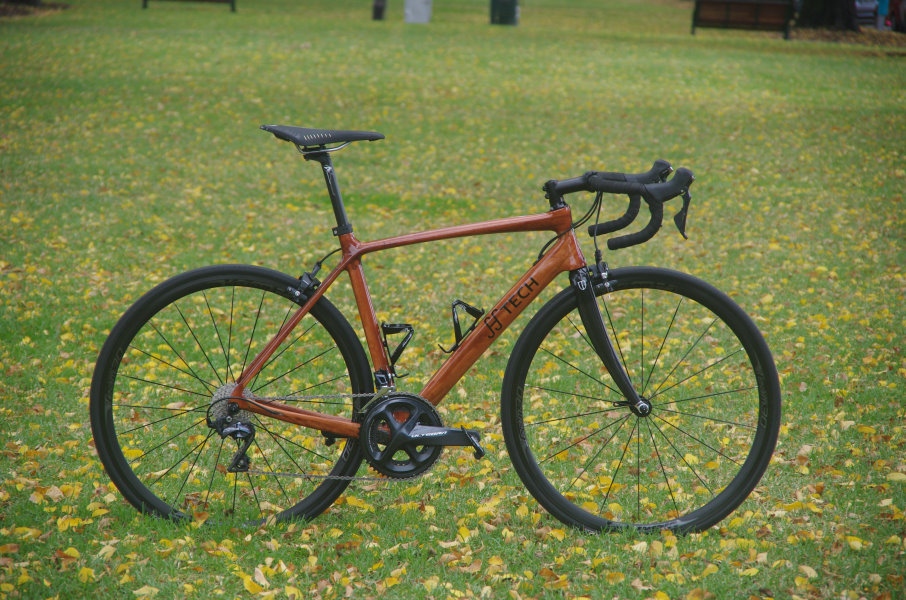 1. Performance
This is what sets HTech Bikes apart from other wooden frame builders. Now even a woodworker with enough skill can build his own wooden bike frame that looks amazing, that is the brilliance of wood design and craftsmanship. HTech Bikes however don't just build bike frames - we build performance machines, designed to be ridden like any other high-end road bike, to the max. Our frames are designed with features such as asymmetrical chain stays and a PF86 bottom bracket (design features rarely used outside of carbon fibre frames) bringing strength, stiffness and a lower weight to our frames. Riding a HTech bike frame is like no other frame you've ridden before. It's stiff like a carbon frame yet takes the hardness out of even the deepest of drains, along with removing harsh, rough road vibration.

2. Comfort
No other frame material compares to the comfort of riding a wooden bike frame. Steel has long been the benchmark when it comes to comfort in endurance bikes and some carbon frames are built with small shock absorbers and special frame linkages in the pursuit of a comfortable frame. With wooden frames the cellulose fibres in the wood vibrates at different rates, acting to reduce road vibration considerably. Potholes, drains and curbs aren't a problem either. Unlike a carbon fibre frame which is stiff all the time, HTech Bike frames are designed to be stiff when needed yet able to absorb bumps rather than trying to smash through them. You still feel the road through the frame when riding a HTech as this maintains a feeling of control. You can feel the bumps too, but you just don't rebound from them. The effect of this has two distinct advantages: one it's more comfortable for the rider and second the front and rear wheels will remain in contact with ground more of the time leading to a safer ride.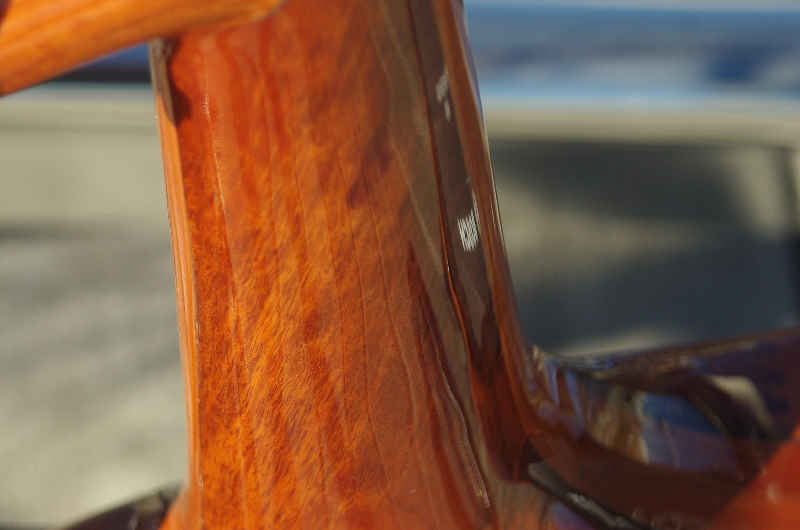 3. The Natural Beauty
As the saying goes a picture paints a thousand words and some people say that you can read the history of a tree by looking at its grain. If these are true, then a masterfully handcrafted wooden bike frame would have to be a thousand-page bestseller. The natural beauty of wood is accentuated in a bike, a moving, working piece of art with two wheels. No other material come close to the look of wooden frame; they undeniably make the best-looking bikes. Every tree we make our frames from is as unique and varied as the rider, some lighter than others, some with a gum vein or a section of fiddle-back. No two HTech Bike frames are the same, everyone has their own special fingerprint.

4. CAD Designed and Tested
Every HTech frame is CAD designed and tested before even a single piece of wood is cut. Whether it's the months of design followed by real world testing on our premium frames or a custom frame specifically built for you, each frame has it's own cad model. FEA (Finite Element Analysis) and CFD (Computational Fluid Dynamics) are both used to unsure our frames are strong and safe to ride, while saving you every last watt.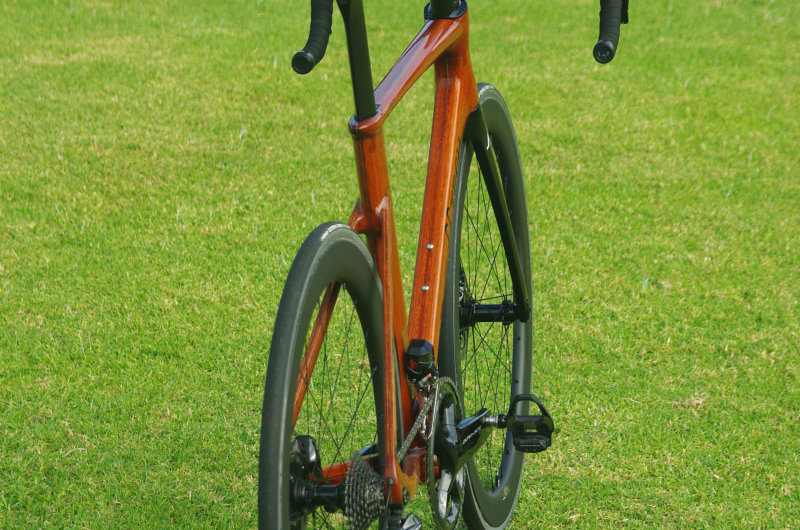 5. Aerodynamics
At HTech Bikes we design our frames to be as aerodynamic as possible, using our Advanced Aerodynamics designs, as 70% of all resistance when riding is overcoming the air. HTech Bikes is the first wooden bicycle manufacturer to use CFD software to maximise the aerodynamic efficiency of our frames. For example, our SV Svelter is 20.1% faster than our AF Aeriform, due to uncompromising pursuit of less drag.

6. SCR
Our most recent innovation - SCR (Selective Carbon Reinforcement) - is the biggest advancement for wooden bicycle frame building since modern adhesives. SCR in short is the addition of carbon fibre fabric within our frames, at varying angles, thicknesses and weaves to strengthen our frames without sacrificing what wooden bikes are known for, a comfortable ride.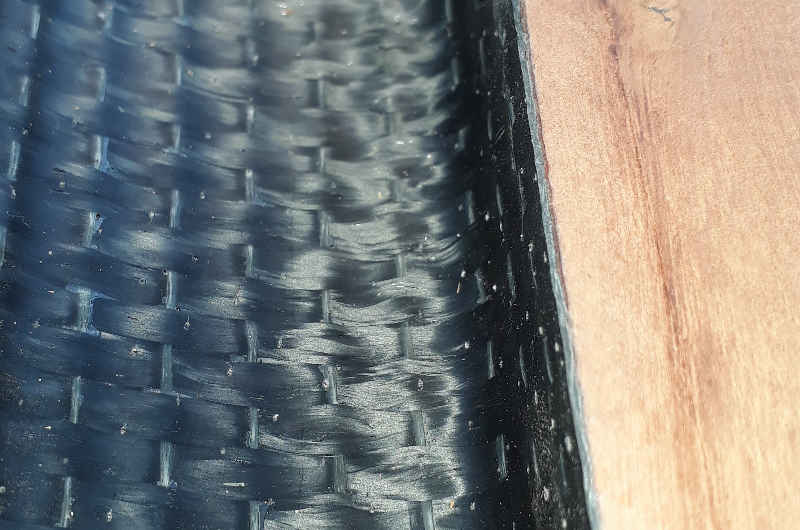 7. HTech ONEFRAME
Another of HTech Bikes pioneering designs is the HTech OneFrame which reduces weight and complexity. All our frames are built using this technology - a monocoque design requiring no internal supports, meaning the job of feeding the internal cables though the frame can be done with ease. Also with the HTech OneFrame every little bit of excess weight is removed from joints and tubes creating some of the lightest wooden bikes in the world, with the highest stiffness to weight ratio.

8. RHD
Again, HTech Bikes has pushed the boundaries of wooden bike design by building our dropouts from wood and carbon. RHD (Reinforced Hardwood Dropouts) creates a lighter, more aerodynamic and structurally integral dropout, which has a much cleaner look than aluminium. The original HTech Aeriform had SHD (Solid Hardwood Dropouts), the predecessor to RHD. After extensive on-road testing SHD were not found to have any problems. We decided, however, they could be bettered, hence RHD.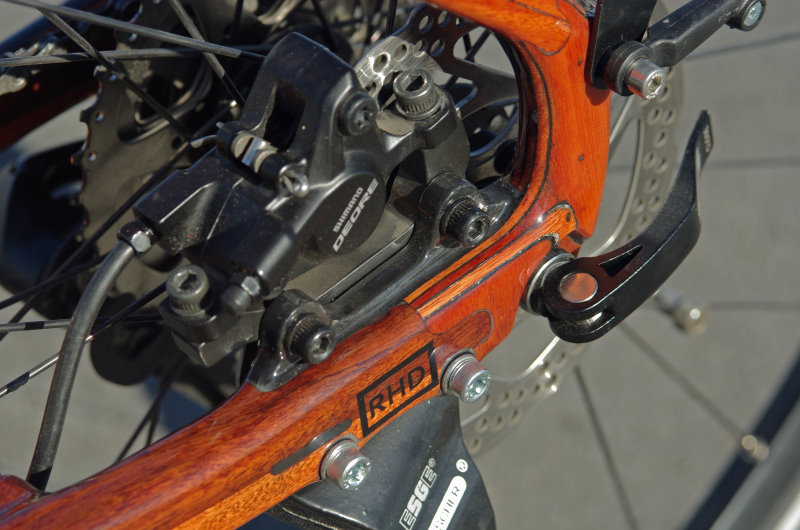 9. Technology
Even the best products made by humans can always be improved, HTech Bikes are continually looking for ways to improve our bike frames. We use tried and tested designs from carbon fibre bicycles along with our own designs to improve our frames. We incorporate a PF86 bottom bracket and asymmetrical chain stays into our frames as these together provide an extremely stiff rear triangle and bottom bracket. This leads to much improved pedal efficiency over a standard 68mm bottom bracket, as less of the rider power is being absorbed through the frame. A combination of a 1 1/8 steerer and a 1 1/5 tapered steerers are used in HTech bike frames in different applications, for stiffer, sharper handling or a more aerodynamic, comfortable ride. At HTech Bikes we also use internal cable routing to reduce aerodynamic drag, prolong the life of cables and provide a cleaner looking bicycle frame. As mention earlier, we also use our Advanced Aerodynamics, SCR, HTech OneFrame and RHD.

10. Wood Selection
At HTech Bikes we don't make frames out of any wood. Our selected hardwoods each have the strength and desired ride characteristics of a HTech bike, so you will never see a wooden bike frame made from pine with a HTech logo on the side. HTech Bikes use three local West Australian hardwoods known for their appearance and structural strength. Jarrah is a reddish, brown wood; that creates a very stiff, carbon like frame with unsurpassed comfort. Marri is a creamish to light brown in colour with gum veins; it provides the lightest of our frames with the highest strength to weight ratio. Blackbutt is a white to sometimes yellow wood; this is the most compliant wood creating the most comfortable ride in our range.